Mortgage Calculator
This calculator will help you to determine how much house you can afford and/or qualify for.
Sadler Realty offers you this simple mortgage calculator so you can roughly estimate how much your can afford before you search for Sienna homes for sale in Missouri City, TX.
Complete or change the entry fields in the "Input" column of all three sections. The calculator will automatically recalculate anytime you press the Tab key after making a change to an input field. View our Help section below, to understand the terms you see within the calculator.
Using the Mortgage Calculator
This simple mortgage calculator shows the principal and interest portion of a monthly mortgage payment and also let's you estimate the PITI (principal, interest, taxes and insurance). This calculator is quick and easy to use, making it ideal to use during the initial home buying stages. Getting a more precise loan estimate requires consideration of many factors such as your credit score and the type of loan program you intend to use.
This calculator will give you a ball park figure to start you on your home buying journey. The next step would be to contact a lender to get pre-approved.
This calculator does not include fees such as closing costs or origination fees. There is an additional section to estimate your payment to include property taxes, homeowner's insurance and home owner association fees. It is not going to be exact - it is set up for a quick, thumbnail sketch to help you determine a reasonably close approximation of your monthly mortgage costs.
Mortgage Amount
The mortgage amount is the principal of the loan. It's how much is borrowed to purchase or refinance a home. This amount will be the purchase price less any down payment.
Example: Purchase price minus down payment.
$400,000 purchase price less a 5% downpayment of $20,000 = $380,000 mortgage amount (principal)
Interest Rate
Loan interest is the cost of the loan (principal). It's the portion of the monthly mortgage payment that is the charge for money loaned to you. It is expressed as a percentage rate. There are many factors that impact the interest rate for loan, such as: local market conditions, the ratio of loan to value, your credit score, the term of your loan (how many months/years), and the type of loan you are procuring (i.e. FHA, VA, etc.)
The Listing Detail Pages for each listing also have a simple Principal and Interest (PI) only Mortgage Calculator that will show you your estimated payments without including taxes and insurance or home owner association dues. View image below. Your lender will tell you how much you will need as down payment.

To estimate your total payment: PITI (Principal, Interest, Taxes and Insurance), you will need to estimate the property taxes for the current year, as well as an annual cost of home owners insurance and possible mortgage insurance, should that be applicable. Don't forget to include applicable Home Owner's Asociation dues. Look in each listing's detail page to find the section shown below, to find the pertinent information.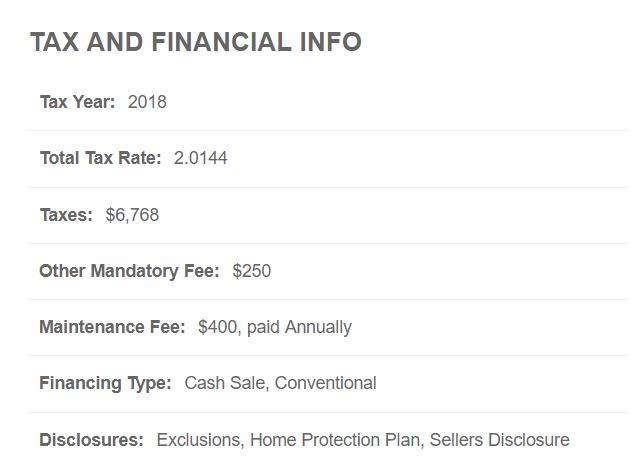 Your real estate professionals at Sadler Realty can assist you if you need help estimating these costs.